Hello all hope you all are good so as you all know the case of covid-19 increasing rapidly. In this situation, we all are thinking about ways to boost our immunity. So one of the best ways to increase our immunity is chyawanprash. So in this blog, we will talk about the Health Benefits of Dabur Chyawanprash how useful is chyawanprash for our immunity.
ABOUT CHYAWANPRASH
Chyawanprash is made up of many herbs which together have many health benefits. In addition it is a vegetarian product. It is a combination of herbs and many ingredients in a base of amla and fruits bulb.
Some of the herbs used in chyawanprash are Amla, Pippali, Ashwagandha, Shatavari, Mulethi, Giloy, etc. It is also a well-known remedy for improving immunity and helps in treating many infections like cough and cold.
The word chyawanprash has a fantastic meaning where chyawan is the name of a sage and expresses 'degenerative change.' Prasha denotes a remedy or foodstuff that is suitable for consumption.
It is an ancient Indian formation. It is made by traditional Ayurvedic recipes. Enriched with several herbs, herbal extracts, and processed minerals. It is used in every part of our country. it gives benefit to all age groups. It is one of the most appreciated food. it also has anti-aging properties
INGREDIENT OF CHYAWANPRASH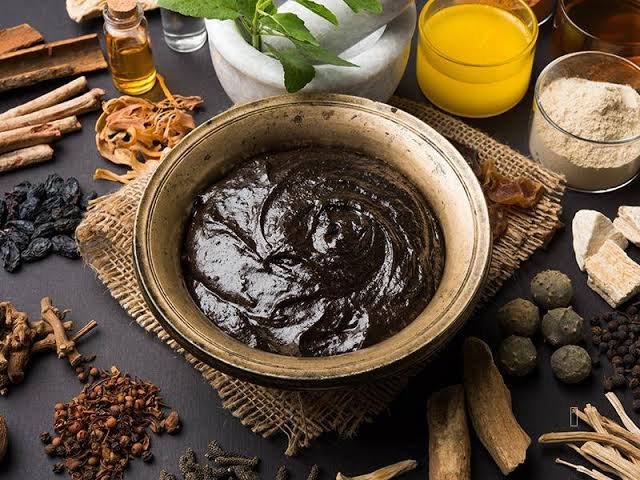 It consists of mainly 12 ingredients which make it soo powerful. Its ingredients are Amalika, Neem, Pippali, Ashwagandha, Safed Chandana, Tulsi, Elaichi, Arjun, Brahmi, Kesar, Ghrita and Shahad. so let's take a brief look at the ingredients
AMALIKA
AMALIKA is a natural remedy used in Ayurveda. Sometimes referred to as amala or also known as Indian raspberry. It has so many health benefits. Has vitamin c and antioxidants, which help in boosting immunity power.
It improve the metabolism of the body also help in fighting against bacteria that cause cold and cough. Some other benefits of AMALIKA. It can use in the treatment of the following health conditions
Atherosclerosis
Diabetes
Diarrhea
High blood pressure
High cholesterol
Joint pain
Obesity
Neem
Neem is a natural herb that comes from the neem trees. It has antimicrobial and antiseptic properties. However it can treat eye disorders, intestinal worms, stomach upset, loss of appetite, skin ulcers, cardiovascular disease, fever, diabetes, gum disease, liver problems, and other infections.
Pippali
Pilali is also known as tridoshic. This herb is suitable for all body type. Antimicrobial, Anti-inflammatory. the regular use of pippali in a reasonable quantity help the body to increase immunity power. It also helps in maintaining blood sugar level. some other benefits of Pippali are:
Increases Digestion
Reduces Gas and bloating
Detoxifies Body
Useful in Respiratory problems
Benefits Anaemia
Reduces Nervous system disorders (Anxiety, fear and worry)
Helps in Weight management
Benefits Insomnia
Useful In Arthritis Beneficial in the liver, gall bladder and spleen problems
Ashwagandha
It is an ancient herb that helps in reducing stress and anxiety. It is also one of the powerful herbs that used in chyawanprash. It's other benefits are:
May improve brain function, including memory.
Lower the cholesterol level and triglycerides.
May reduce inflammation.
It also helps in increasing muscle mass and strength.
Boost testosterone and increase fertility in men.
Safed Chandana
Safed Chandan is a evergreen tree. The oil from the wood and the wood are used as medicine. On the other hand has many health benefits. Used for treating the common cold, cough, bronchitis, fever, and sore mouth and throat.
It is also used to treat urinary tract infections (UTIs), liver disease, gallbladder problems, heatstroke, gonorrhea, headache, and conditions of the heart and blood vessels (cardiovascular disease)
TULSI
People worship this plant. It is a holy plant in Hindu belief. Tulsi is considered the avatar of Lakshmi. Tulsi is almost in every house in India. It is also used in Dabur chyawanprash and has many benefits.
Tulsi is rich in vitamin c and zinc. It has anti-bacterial, anti-viral and anti-fungal properties, which protect us from a variety of infections. It thus acts as a natural immunity booster and keeps diseases away
some other health benefits of tulsi are
Good for Skin & Hair
Useful in Gastrointestinal Disorders
It is Useful in Gastrointestinal Disorders
Good for Diabetes Patients
Good for Heart Health
Anti-cancer properties
Reduces Stress & Blood Pressure
Elaichi
Elaichi is excellent antioxidant and diuretic qualities. It is also used in every house. It lowers blood pressure. Help in weight loss and improve breathing. It helps maintain high cholesterol and high blood pressure levels. Some of its other benefits are
It Contain Cancer-Fighting Compounds
May Protect from Chronic Diseases
Help with Digestive Problems, Including Ulcers
May Treat Bad Breath on the other hand Prevent Cavities
Arjun
Arjuna is a herb which is used as a remedy for over 1000 years. It is a natural remedy for improving heart health and treating heart-related issues like high blood pressure. It is also a remedy for kidney stone.
Brahmi
Brahmi, which is also known as water hyssop and herb of grace, is a staple plant. It is used for Alzheimer's disease, improving memory, anxiety, attention deficit-hyperactivity disorder (ADHD), allergic conditions, irritable bowel syndrome, and general tonic to fight stress. Some of its other benefits are :
It contains powerful antioxidants.
May reduce inflammation.
It boosts brain function.
It also has anti-cancer properties.
Kesar
Kesar is warm in nature and helps in relief from cold quickly. It is a powerful antioxidant. Kesar also improve Mood and Treats Depressive Symptoms. It is famous for lightening the skin colour and improving complexion. some of its other benefits are:
May have Cancer-Fighting Properties.
Helps in reduce PMS Symptoms.
Act as an Aphrodisiac.
Also, reduce Appetite and Aid Weight Loss.
Ghrita
Ghrita, or we can also call it ghee. It is the foremost substance of the Indian menu for centuries. It also takes high importance in keeping the body warm. However if you want to gain weight, it is the best source which you can use for it. Ghrita Clear block nose enhances digestion, managing diabetes and promoting cardiac activity.
Shahad
Shahad or honey is a powerhouse of phytonutrient. It is also an essential component of chyawanprash have many benefits. Honey Is "Less Bad" Than Sugar for Diabetics. It is also rich in antioxidants. However, honey Also Helps Improve Cholesterol. It promotes heart health also.
BENEFITS OF DABUR CHYAWANPRASH
Now you know its main ingredients. So let's discuss some benefits that we can get through regular use of Chyawanprash if you take chyawanprash regularly.
It stimulates immunity power and helps our body to fight cough and cold
It makes our heart healthy and also supports the respiratory system.
After that, it prevents seasonal change infections.
It enhances overall strength on the other hand also boosts energy level.
chyawanprash support a solid digestive system.
Protect skin from free radical damage and also delay the ageing of the cell.
It promotes healthy blood glucose also maintain cholesterol levels.
Nourishes and also revitalizes the reproductive tissues.
It eliminates the toxins from the blood and purifies it.
Helps in keeping the respiratory passage clean and clear.
Normalize the blood pressure.
It also nourishes the mucous membrane.
RIGHT METHOD TO TAKE CHYAWANPRASH BENEFITS
So now we know all the benefits of Dabur chyawanprash. Let's move toward the right way to have chyawanprash to get its maximum benefits. Any age group can consume it. You can take it twice a day, one teaspoon in the morning and once at night.
chyawanprash can take with warm mild, and you can also have it directly. Don't give the children who are below three years. For children above three, only one teaspoon is recommended. Have a look on this also click here
Hope the above information are useful. If you want to ask any queries or suggestion related to above content. Feel free to contact us, join us on instagram https://www.instagram.com/anything_at_one/
you can also check our more blog related to fitness CLICK HERE
THANKYOU!