Hello all !! As you all know, the discussion is going on everywhere about WhatsApp's policies. So in this blog, we will cover your queries about WHATSAPP'S NEW PRIVACY POLICY: ALL YOU NEED TO KNOW. Read the full blog to get all details.
WhatsApp is a viral and widely-used social media messenger. Billions of people across the world install whatsapp on their phones.

There is no doubt that WhatsApp has penetrated in a way that no other messaging app has managed to, and the reliance on the platform has increased over the years, both for personal and professional communications.

But recently, WhatsApp officially updated its terms of service and privacy policy on January 4, 2021. To continue using the services, users will have to accept the terms and conditions.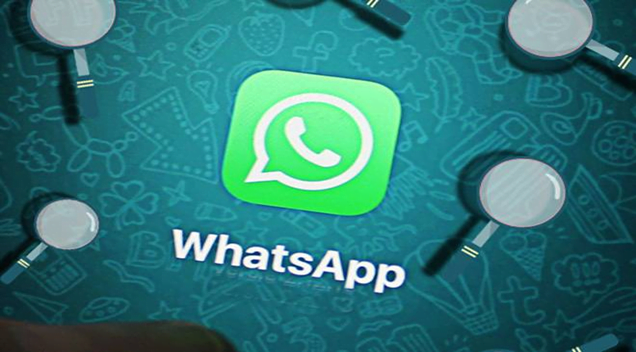 If the users do not accept the new terms of service, they will no longer be able to use the app from February 8, 2021.

Since the update, there has been a lot of conversation on WhatsApp sharing user information with Facebook, which has raised security concerns.
What are the critical whatsapp's new privacy policy changes?
'Respect your privacy is coded into our DNA is the older version of whatsapp's privacy policy. Since we started WhatsApp, we've aspired to build our Services with a set of strong privacy principles in mind.'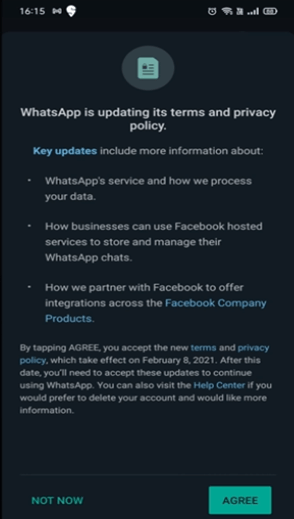 Those lines are no longer part of the new privacy policy. However, WhatsApp stays end-to-end encrypted. Which means it can't see your messages or share them with anyone. But the new policy suggests an increasing reliance on other Facebook products.
The new whatsapp's privacy policy concerns with three things: –
App's services and how it can process your data.
How businesses can use Facebook hosted services to store and manage their WhatsApp chats.
How the app can partner with Facebook to offer integration across the Facebook company products.
Personal data collected by WhatsApp?
WhatsApp's data includes your mobile phone number and the necessary information you give when creating a WhatsApp account.

It also collects and shares user activity, how often you use WhatsApp, features you use, your profile photo, your status, and 'about' information.
It also collects device-level information like what device you use, your mobile network, IP address, your battery status, signal strength, your time zone.
Thanks to WhatsApp Pay, it also has access to your payment details and your transactions.
What data is shared with Facebook under the whatsapp's new privacy policy?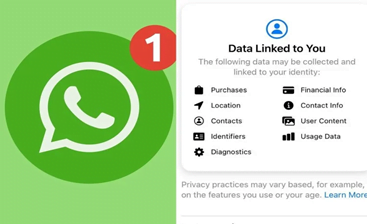 Well, almost everything. According to the new policy, all the data accessed by WhatsApp is shared with Facebook and other Facebook companies like Instagram.
So, based on what you share on WhatsApp, Facebook and its products can bring you to personalize features and content. Help you complete purchases and transactions, and show relevant offers and ads across platforms like Facebook and Instagram.
What data is shared with business accounts on WhatsApp?
WhatsApp says that any businesses that users interact with may provide the platform with information as well. The policy further explains content shared with a company on WhatsApp will be visible to "several people in that business."
It also states that some "businesses might be working with third-party service providers (which may include Facebook) to help manage their communications with their customers."
To understand how the business is handling the information you share with them, WhatsApp also recommends that users read the "business' privacy policy or contact the company directly."
What about your chats/messages?
WhatsApp has restated that all chats are end-to-end encrypted. This means that neither WhatsApp, not third parties will have access to read your conversations.
"Nothing you share on WhatsApp, including your messages, photos, and account information, will be shared onto Facebook or any of our other family of apps for others to see, and nothing you post on those apps will be shared on WhatsApp for others to see," WhatsApp says.
Also, about the storing of messages, WhatsApp stores a message only when it "cannot be delivered immediately" — the news can then stay on its servers "for up to 30 days" in an encrypted form as WhatsApp continues to try to deliver it. If undelivered even after 30 days, the message is deleted.
What about your payment data?
Given that WhatsApp has rolled out payments in India and other countries, it is not surprising to see this part of the privacy policy expanding further.
It says, if you use their payments services, they will "process additional information about you, including payment account and transaction information." This is the information required to complete the transaction, such as payment method, shipping details, and transaction amount.
However, WhatsApp Payments in India has a dedicated privacy policy.
What happens if you delete your account?
So, here's the thing.

The new privacy policy highlights that if someone only deletes the WhatsApp app from their device without using the in-app delete my account feature, then that user's information will remain stored with the platform.

So just deleting the app from your phone isn't enough. You need to ensure that you not only uninstall the app but delete the account too. This can be quickly done by going to settings > Account and selecting 'Delete my account.'

But it also adds that "when you delete your account, it does not affect your information related to the groups you created or the information other users have relating to you, such as their copy of the messages you sent them."
What alternatives do you have then?
Since many people are now going to remove their WhatsApp accounts, so a self-evident question arises, do we have any alternatives?

We've seen many Twitter users that have been enticing one another into getting off WhatsApp and making a shift to other encrypted messengers like Signal and Telegram. Tesla, SpaceX, and Boring Company CEO Elon Musk joined in the conversation, too, asking people to leave WhatsApp and start using "Signal."
Signal Vs. WhatsApp

The Signal is a well-known privacy-focused messaging app widely used by security experts, privacy researchers, academics, and journalists worldwide. The Signal protocol also underpins WhatsApp's end-to-end encryption.
We know WhatsApp is collecting more information as compared to other apps. On the contrary, Signal is not asking for anything. The platform only requires your phone number for registration but doesn't link it directly to your identity.

Although one key difference is that Signal is open source, while WhatsApp is not.
WhatsApp is clearly no more an independent platform but just another Facebook product.
I hope the above information was useful. If you want to ask any query or have suggestions related to the above content, please contact us.
Join us on Instagram https://www.instagram.com/anything_at_one/
Check out our other blogs https://anythingatone.com/