Do you celebrate Durga Puja, a.k.a Navratri, in your town? I assume yes if you are from India. But do you have any idea about the concept behind it. In this blog we will tell you all about INSIGHTS TO DURGA PUJA AND NAVRATRI RECIPES. what this whole festival comprises of? For the answers, I will take the lead and guide you towards it. For insights, go through this blog and enhance your cultural knowledge. Durga Puja is a famous Hindu festival mostly celebrated in West Bengal, Assam, Tripura, Odisha, and Bihar.
The remaining states celebrate it as Navratri. Both the festivals commence on the same date embarking on the celebration of the divine feminine. It is believed that this festival exemplifies the victory of good over evil, i.e., goddess Durga wins over demon king Mahishaasu
r. It's a nine-day festival, out of which the first day is Mahalaya, which heralds the advent of the goddess. It lies in September/October. The last day, i.e., Navmi further leads to Dusshera/ Vijaya Dashami. Amid loud chants and drumbeats, idols are carried in large processions to local rivers for immersion. Puja pandals are often lined up with food delicacies all over. 
Here are some unique Navratri food recipes for Durga Puja to try on:
1. Khichuri :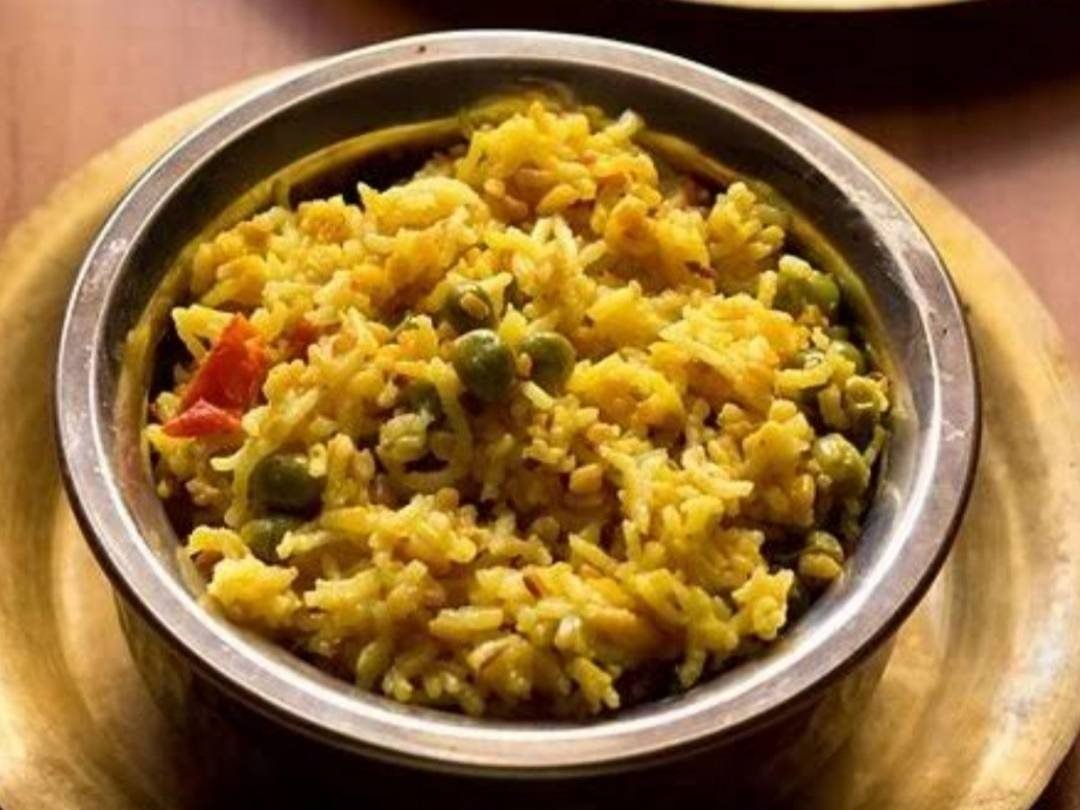 Take some moong dal and Gobind bhog rice in equal quantity. Wash the rice thoroughly and strain it over a net/colander, and spread it over to air-dry. Now remove stones and other impurities from the dal and dry roast it until it turns pinkish brown on medium heat. Rinse the dal just once to avoid scent loss in it and then air-dry.
Heat the oil, add the rice to activate its sweet smell, and fry it until it becomes glassy and set it aside. Again heat the oil and stir-fry the veggies (of your choice). Now make a paste of ginger, turmeric powder, cumin powder with water. Heat the oil, temper it with dried red chilies, bay leaf, cardamom, cinnamon, cloves, cumin seeds, grated coconut, and the paste till golden brown.
Manage the water consistency, then add tomatoes and cook it. Add the rice and dal with two slit green chilies. Add hot water and salt with fried veggies and cook it. Now put sugar to it, making it ready to attack. This dish is so quick and easy to make and will appeal to people of all ages. 
2. Sondesh For Navratri Recipe:
If you have a knack for sweet, then you cannot miss on sondesh. It's also a typical Bengali sweet dish prepared in sugar, jaggery, and milk. All you just have to do is make or purchase Chena/Paneer and cook it on low flame for some to remove any moisture. After that add some sugar, corn starch, and jaggery to it. Knead it well into a dough. At last put it in sondesh molds, and it's ready. 
3. Rosogulla For Navratri Recipe:
Whenever we talk about Bengal, this name emerges. Rasgulla makes for a perfect meal sweet due to its unmatched sweetness. It can make any day special, making Durga Puja inevitable. Its recipe is almost the same as sondesh with a few extra steps.
After creating/purchasing Chena/Paneer, directly add corn starch to it and knead it well. Make the hot sugar syrup and add the rosogulla balls, thereby cooking it in. Please turn off the flame when the balls double in size, and it's ready to munch on.
Navratri unique recipes to try on:
Halwa, Puri, and Black Chana:
This Navratri recipe is usually made on Saptami/Ashtami and Navmi.
Take some washed black chana soaked overnight and pressure cook with salt and water until it softens. In a pan, heat the oil, add cumin seeds and ginger, coriander powder, and cumin powder, and cook it for a few seconds. Then goes in the chance to be cooked with spices. Black chana is ready.
For sooji halwa, put water and sugar in a pan and make its syrup. In another pan, add some ghee and sooji and fry it until it changes color. After that put the sugar syrup to it slowly and stir it well continuously. Then goes in cardamon powder and dry fruits. Cook till ghee separates and it's ready to serve. 
For the puris, take some whole wheat flour and add a pinch of salt, carom seeds, and oil. Knead a dough of it and let it rest for few minutes. Roll out the dough balls into small circles, i.e., puris, and deep fry them in hot oil by lightly pressing them and turning. Your offering is ready. You can also add any dry fruits to the sweets to get a crunchy taste. 
Hope the above information are useful. If you want to ask any queries or suggestion related to above content. Feel free to contact us, join us on instagram https://www.instagram.com/anything_at_one/
you can check our more blog CLICK HERE
Thankyou