Namaste, everyone! Are you planning to get creative this festive season? So, you have tuned in to the right place. I am Shiwangi Anand, and I'm all set to take you on a creative journey through this blog. So in this blog we will tell you all about HOW TO MAKE DIY RAKHI?
Handmade products are always in vogue. And making them with your own hands is an altogether different level of joy. So why not try making an easy yet elegant rakhi for your brother? Make this Raksha Bandhan special by creating your version of the pious thread symbolizing brotherhood and love. I'll be sharing a few of my creations. Hold tight to get through an exciting DIY Rakhi and Lumba session. So let's get started.
DIY RAKHI
BEAD RAKHI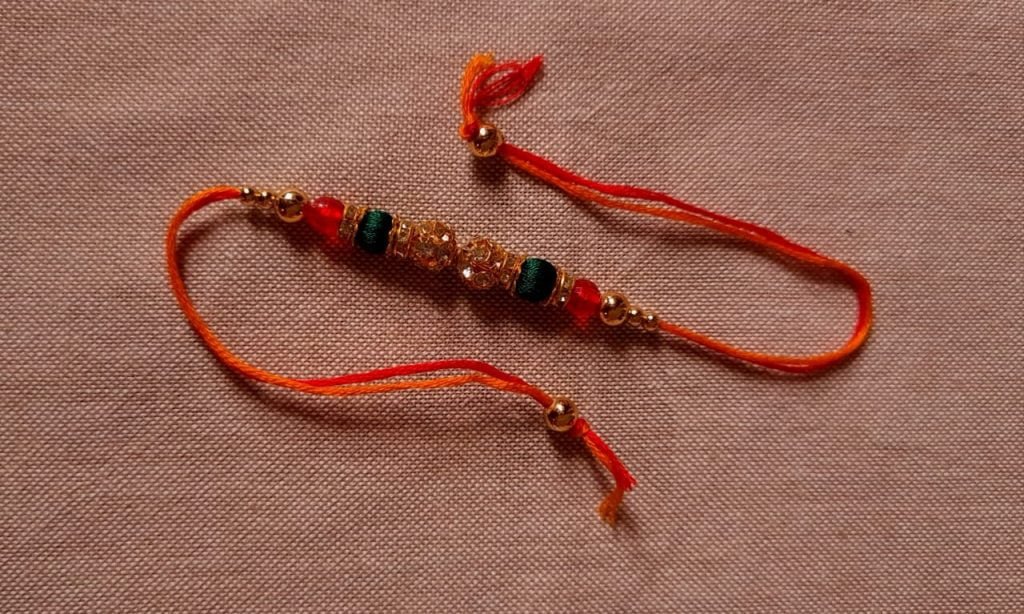 A simple and easy-to-make rakhi that is a classic forever.
Materials required for making DIY Rakhi:
Colored glass/plastic beads of different shapes and sizes
Stone beads
Spacer beads
Bead caps
Embroidery thread
Method for making DIY Rakhi :
Thread the needle. Cut the embroidery thread to an appropriate length so it could easily go around the wrist. After that start beading the beads. Then you can choose to add beads in any sequence you like. A bisymmetric order would be good to go! Insert bead caps and spacer beads to give the rakhi a trendy look. After that put a knot at the end. It is Done! Simple, right?
KUNDAN RAKHI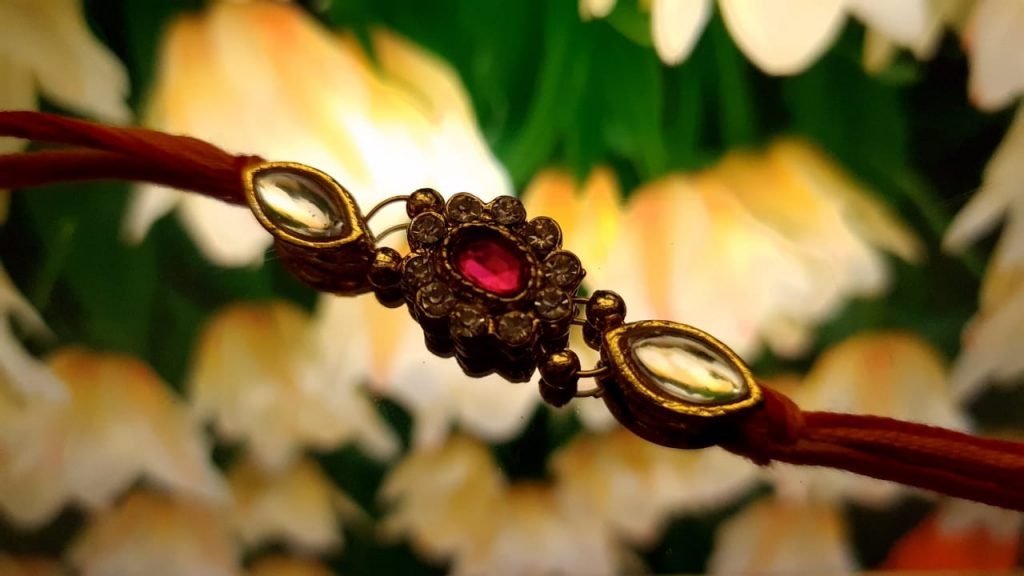 Another easy-peasy idea is to make a fancy rakhi with a professional look.
Materials Required for making DIY Rakhi :
Rakhi pendant
Kundan
Golden Beads of different size
Jump rings/ Kadi
Embroidery thread
Method for making DIY Rakhi :
Firstly take a rakhi pendant and connect a jump ring/ Kadi at one end. After that add two tiny golden beads to the Kadi. Then link the Kundan using this jump ring. Repeat the process for the other half. Attach an embroidery thread at both ends of the Kundan. Tie a knot at the ends of the string. You may also add mini golden beads near the knot. your Kundan rakhi is ready!
EMBROIDERED RAKHI
As you all know that traditional rakhi- showcasing the antiquity of Indian culture. Therefor It is the best combination of being simple to make with a sophisticated look.
Materials used for making DIY Rakhi :
Zardozi spring
Ball chain (red and golden)
Golden and silver stone chain
Silk thread round base
Glass beads
Spacer beads
Kundan
Felt
Embroidery thread
Method for making DIY Rakhi :
Firstly cut out the required shape on felt. After that outline the felt shape by sewing Zardozi on edge. Then embroider the inside area by Zardozi, maroon silk thread, and stone chain. After that stick Kundan at the center. Paste the embroidered felt around the silk thread base. Stick stone chain and ball chain on edge to decorate.
Add beads to a thread and stick on the backside of the silk base.
Traditional embroidered rakhi is all done!
COUPLE RAKHI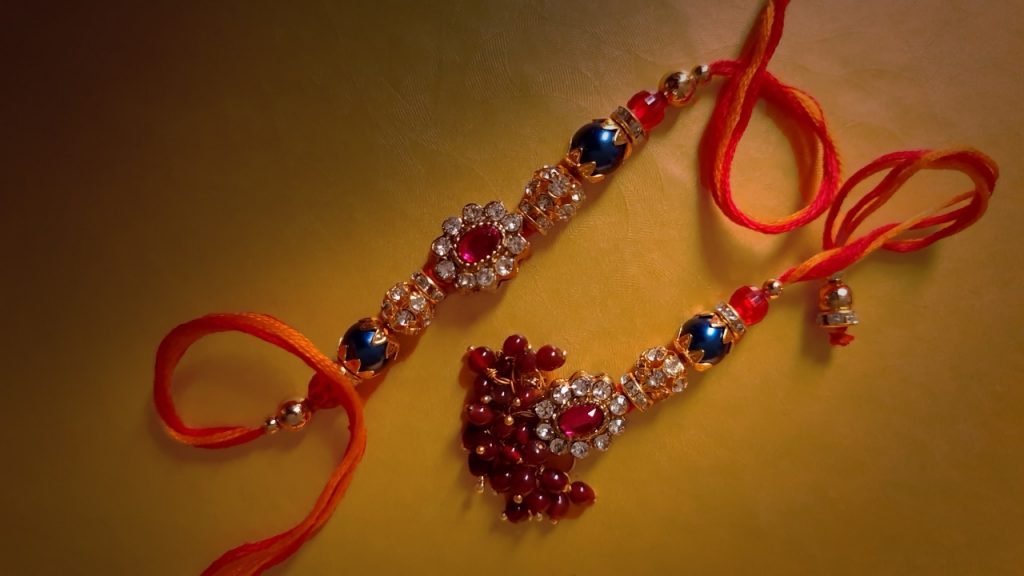 What's sweeter then showing your love to Bhai and Bhabhi by presenting them an exclusive handcrafted Rakhi and Loomba made by you-just for them?
Materials Required for making DIY Rakhi :
Rakhi pendant
Stone balls
Colorful beads of different sizes
Bead caps
Spacer beads
Embroidery thread
Method:
Firstly thread the needle and add beads, spacer beads, and bead caps. Then prepare a similar line for the other side. Lastly affix these threads on both ends of the Rakhi pendant. It is complete. Easy again.
Lumba:
Materials Required for making DIY Rakhi :
Rakhi pendant
Stone balls
Colorful beads of different sizes
Bead caps
Spacer beads
Loreals
Kadi / Jump Rings
Embroidery thread
Method:
Firstly take a jump ring/kadi and add approximately 7-8 loreals. Then affix this jump ring to the rakhi pendant. Similarly, prepare two more loreal hangings and connect them to the charm. Then thread the needle and start beading. You can choose any sequence you like. Fasten this thread to the other end of the pendant. Put a knot at the other extreme of the line.
Your easy and modish Lumba is ready!
RAKHI FOR KIDS
A non-traditional funky rakhi would be perfect for kids. It can be a cartoon character, a car, an animal, or anything they like.
BROOCH RAKHI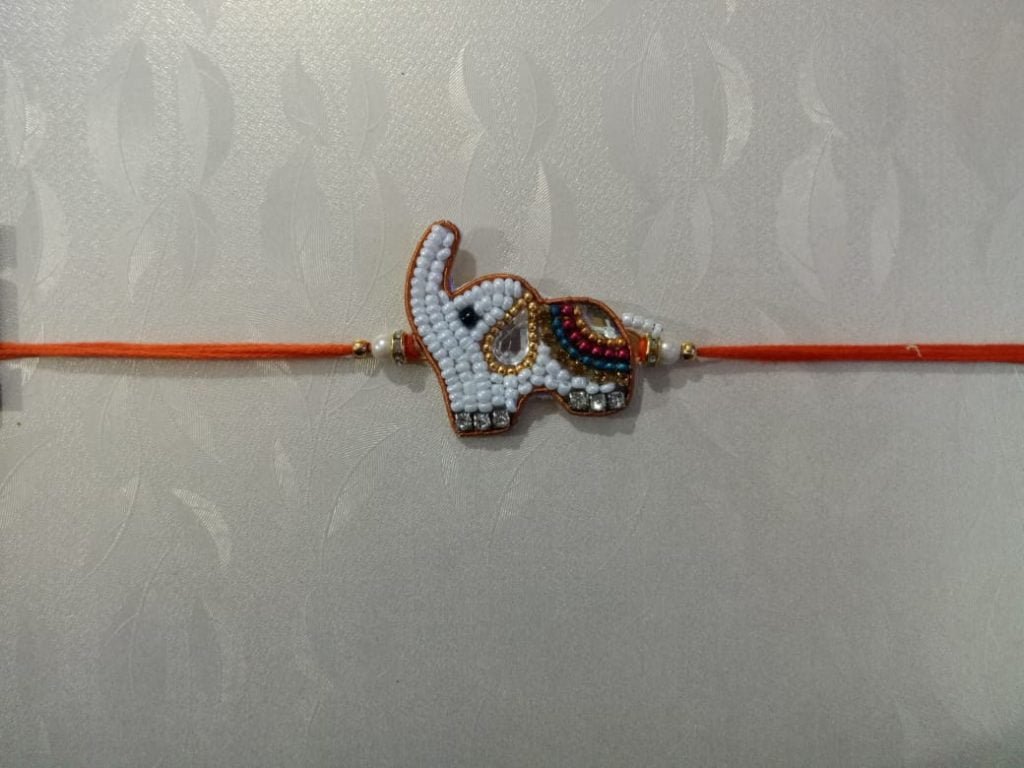 Materials used for making DIY Rakhi :
White/ black seed beads
Colorful/golden ball chains
Silver and golden stone chain
Zardozi spring
Kundan
Spacer beads
Felt
White pearl beads(optional)
Embroidery thread
Nylon thread
Method:
Firstly draw the shape on the felt and cleanly cut it out. Then outline the shape by sewing Zardosi wire on edge. After that decorate the inside area with beads, stone chain, ball chain, and paste the Kundan according to the selected design.
Add beads and spacer beads to the embroidery thread. Stick the string on either side of the brooch. And here's your stylish, ingenious rakhi.
POM POM MINION RAKHI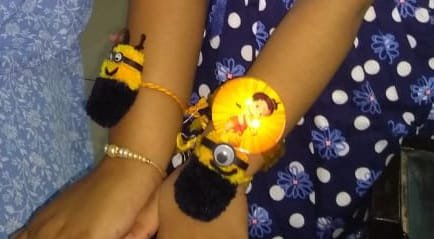 Materials required for making DIY Rakhi :
Wool thread (yellow and blue)
Felt
Googly eyes
Thread
Method:
Firstly make two pompoms using wool thread. Stick the pompoms together with glue. Then trim the unwanted wool to give it the rounded rectangle shape of minion. After that stick a strip of felt on the upper yellow pat to make the belt for glasses. Then paste googly eyes on felt. Use wool to make mouth and hair. Attach a thread at the back to make the string. Tada!! Pompom Minion rakhi!
Handcrafted goods convey a very special message of devoting time and love to the process of making. It is the best way to bring out artistic skills and hone them. There isn't any restriction to what can be added to the craft item. Getting creative has no boundaries or rules. You can create your version of ingenious rakhi. Inspiration and innovation are always welcome. You can also try out a fusion of modern look with a traditional touch by experimenting with different types of beads and materials. Do give it a go and share your valuable feedback in the comments below.
Check out my YouTube channel, 'The Creative Stop,' a one-stop for creativity for more such creative stuff.

Hope the above information are useful. If you want to ask any queries or suggestion related to above content. Feel free to contact us, join us on instagram https://www.instagram.com/anything_at_one/
you can check our more blog CLICK HERE
Thankyou