Chhath puja for Bihari is more than just a festival. Instead, it is an unexplainable emotion. A celebration that speaks profoundly about the Bihari culture. A festival which no Bihari misses on top of anything. A festival where everybody tries to be home, even from abroad no matter what, to be home during this time of the year. The most warming beauty of this festival is that any human being can celebrate it. No gender bias, no cast Bias also.
From the heavenly aroma of kheer on "mitti ka chulha" to thekuas. To washing every inch of ground to decorating every ghat. From sacrificing food for almost two days to handing out prasad to everybody.
To lighting diyas and agarbattis to listening to soulful chhath songs. From standing straight in cold water for hours praying to be ready for arghs. Everyone can feel the utmost devotion of all the Biharis performing chhath and their families.
One can see the sheer importance of this festival when even the people were not performing chhath areas devoted to the rituals like the ones celebrating it.
Significance of Chhath Puja:
Chhath puja is a special and unique festival in North India. Chat puja primarily celebrated in Bihar, Uttar Pradesh, and Jharkhand. However, one can see Biharis celebrating it in other states too.It is interesting that people also celebrate Chhath Puja in other parts of the world, such as the US, Germany, etc., wherever Biharis live.
Celebrated just a week after Diwali, Chhath is a festival people wait for with much eagerness. Devotees express their gratitude to Lord Surya and perform rituals for four days. We call it "Chhath" as it's the sixth day of the month, Kartika.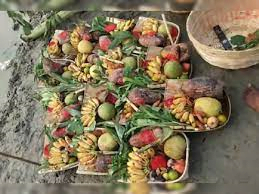 Worshipping is the most significant energy source on the planet, Surya, on this day. It is a festival of showing dedication to solar deities Surya and Shashti Devi. It is celebrated to thank them for sustaining life on earth. And also the fact that it is the only God visible to us earthlings. Devotees worship the God of light for bringing happiness and prosperity to them and their families.
In Mahabharata
Chhath puja has a significant significance in Indian mythology as well. In mahabhrata, Lord karna. The child of Lord Surya first performed chhath by standing in water, exposing his body, and worshipping Lord Surya. Later, he offered food to the poor, just like devotees offered prasad at the end of chhath puja. Not only this. It is said that Draupadi with the five Pandavas also performed chhath puja when returning to the kingdom after the fight.
In Ramayana.
It is interesting to know that chhath plays an essential role in Ramayana as well. People believe when Lord Ram was returning to Ayodhya with Mata Sita, they kept one day-long fast in honor of Lord Surya. They started the fast at sunrise and broke it at sunset, which shows the very ritual of chhath puja.
Rituals Associated with Chhath Puja:
Chhath is a four-day festival that starts after four days of Diwali.
DAY 1: NAHAY KHAY
Nahay-Khay means eating after bathing. Devotees performing chhath and their families should eat only after bathing. They are supposed to take a dip in a holy river, preferably Ganga.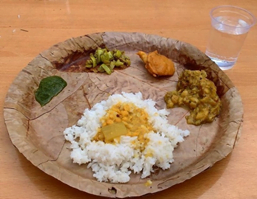 Then the devotees take the water from the river to prepare the meal for the first day of Chhath to offer Lord Surya. The Vrata or Vrati only eats once that day and then observes a fast until the next day's evening. The meal consists of chawal, chana dal, and kaddu also.
DAY 2: Kharna
After that the second day of this festival includes fasting all day and preparing prasad. The prasad comprises Rassiao/kheer- roti/puri. The Vratas/Gratis break their fast in the evening after offering prasad to Lord Surya and performing Surya puja.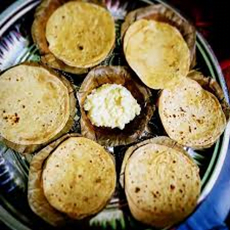 Kharna prasad is offered to everyone. The devotees invite their families and friends to have the prasad. Biharis eagerly wait for the kharna invitation from their families, neighbors, or friends just to have that prasad. This shows the very importance of the prasad among every Bihari.
DAY 3: Sandhya Arghya
The third day of chhath puja, also called pehli argh. This day basically means observing the sun in the evening. From this day the devotees start worshipping the two goddesses Usha and Pratyusha, better known as "Chhathi Maiyya" along with Lord Surya.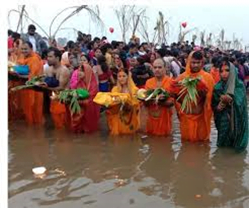 On this day Vratas/Gratis worship the goddess Pratyusha (Goddess of Dusk). This day is the main day, also called the Chhathi day. This day includes observing the setting sun with "sauri" in the water while friends and families offer arghyas.
DAY 4: Usha Arghya
The last day of the puja, the dusri argh and Paran. This ritual is performed at dawn. This day accounts for worshipping Goddess Usha(Goddess of Dawn). On this day, vratis observes the rising sun holding thesauri in their hands while friends and families offer evening arghs.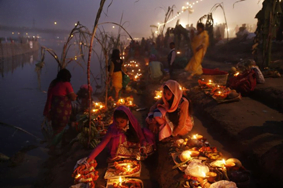 After this, they finally break their 36 hours long fast after offering prasad to everyone. After that returning from the ghats delicious meals are prepared and eaten in the hope of celebrating chhath puja again the next year with the same joy. And with this, the four-day-long celebration comes to an end.
Let us know if I missed out on some points. Hope you enjoyed reading this blog. If you want to ask any queries or suggestions related to the above content. Feel free to contact us, join us on Instagram https://www.instagram.com/anything_at_one/
you can check our more blog CLICK HERE
Thank you.